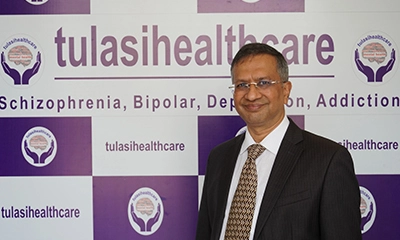 Dr. Gorav Gupta
CEO, Senior Consultant Psychiatrist with over 20 Years of Experience
Dr. Gorav Gupta, Senior Consultant Psychiatrist of the Indian Continent, practices in Delhi NCR. He completed his MBBS from the prestigious institute, Maulana Azad Medical College (Delhi University) and M.D. from Lady Hardinge Medical College (Delhi University) in 1997. He is renowned for pioneering super specialized work in psycho-social rehabilitation in psychiatry.
National recognition was accorded for his deep commitment and dedication in developing infrastructure for mentally sick patients by appointing him as President of Mental Research Society.
Dr. Gupta runs a 100 bed psychiatry and de-addiction center known as Tulasi Psychiatry and Rehabilitation Centre, a 50 bed halfway home known as Tulasi Home for patients with chronic mental illness and a psychiatric center which are all in South Delhi. The organization is successfully running for more than 15 years and is well known for treatment modules adopted to treat addiction.
Another 125 bed Psychiatry and Rehabilitation center is coming up in Gurgaon which will be operational from 2019.
Dr Gupta worked as an advisor to Government of India for framing the rules and regulations for Mental Health care Act 2017.
Presently he is a member in Central Mental Health committee to guide and contribute towards improving the mental health of the country. He is also working with the  Department of Social Welfare of Delhi providing technical know how in establishment of half way home by the government.
He is on advisory board of various pharmacological companies and is closely associated with research and development of better medications to treat mental illness.
In addition, he has written and spoken on mental health issues and current affairs in leading print media like Times of India, Hindustan Times, Indian Express, Navbharat Times etc. and on television shows respectively. He is a recognized speaker at various mental health related conferences and clinical psychology conferences
His expertise and clinical experiences in psychiatric management include, but are not limited to:-
Psychiatric Outpatient and Inpatient treatment of mentally ill adults, children and adolescents, elderly men and women, homeless mentally ill and rehabilitation of mentally ill patients.
Pharmacological and Psychosocial management
Child and adolescent Psychiatry
Geriatric Psychiatry
De-addiction and rehabilitation.
Community outreach services.
Occupational Therapy
Forensic Psychiatry
He holds eminent positions of responsibility and contributes actively in Professional Bodies and NGO's like:
President of Mental Research Society
Life Fellow, Indian Psychiatric Society
Life Member, Indian Medical Association
Life Member of Indian Association of Private Psychiatry
Life Member of Delhi Psychiatric Society